How to walk around in Oirase Stream

[ Walking ]
Yakeyama through Nenokuchi (All sections) about 5 hours about 14 km (about 8.7 miles)
Ishigedo through Nenokuchi (highligh section) about 2 hours and a half about 9 km (about 5.6 miles)
Natural volunteer guide
Sightseeing Volunteer Association of Towada - Lake Oirase Stream
Residents wanting to help with a pleasant journey gather in cooperation for beatification and sightseeing guidelines. The guides are mostly farmers in varying ages. They convey a spiritual atmosphere in their native dialect.
[ The activities of the Roman Crops ]
They conduct sightseeing tours, organize various events, and Valley Stream cleaning at Michinoeki (Oirase Roadside Station)
[ Crops walking together ]
In additions to the activity of a Roman crops , they showcase the Oirase Stream.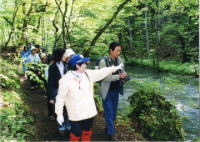 〒034-0302 84-1 Mizushiri Aza Sawata Oaza Towada-city (Mr/Mrs Tanaka)
Tel 0176-73-2521 or 0176-72-2642
Fax 0176-73-2521 or 0176-72-2642
| | | |
| --- | --- | --- |
| ●Tour area | / | Oirase Stream and surrounding area |
| ●Tour period | / | End of April through the middle of November |
| ●Hours of Operation | / | 8:30 a.m. - 5 p.m. (flexible hours by appointment) |
| ●Cost | / | Fee (prices posted on the Website) |
| ●Application | / | please apply via Fax with application form posted on the Website. |
| ●URL | / | check on the Website |
Towada Lake Nature Guide Club
A local tour guide will show tourist staying at Towada Lake, the natural day-to-day changes in the Lake and Otomenozou (Statue of Maiden) in the early morning on daily basis for one hour. As natural beauty impresses upon all tourist in attendence, the guide will provide cultural heritage in efforts to increase the amazement of the national park.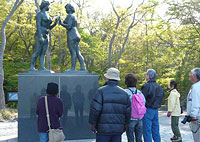 〒018-5501 486 Towada Aza Oirase Oaza Towada- City (Mr/Mrs Yoshizaki)
Tel 090-5181-7658 Fax 0176-75-1860
●Tour area
/
around Towadakohanyasumiya ( about 1 hour )
Yasumiyakohan ~ Otomenozou (Statue of Maiden) ~ Towada Temple ~ kaiun no komich (Path of Good Luck)
●Tour period
/
End of April through Early November (everyday except in bad weather)
●Cost
/
Free
●Application
/
No pre-acceptance necessary
It gathers around the Towada Lake Tourist Exchange Center (Purrato) beginning at 5:55 in the morning. Departure time 6:00 in the morning. On Tuesdays, the meeting place will be at the Hotel Towada Sou.


※

Except for the Yasumiya early morning tour, guides may be available via request at Oirase Stream for a nonminal fee.
Towada, Oirase, and Hakkoda Eco-tour Guide Club
Towada Lake, Oirase Stream of a Towada-Hachimantai National park to support the Eco-tour which is aimed at using in the nature-friendly National park for its beautiful scenery, appreciation of the National park , a variety wildlife, awareness of nature protection.
The foundations have held various natural observation meetings over the past 10 years and uses this expertise to coordinate structured activities. There are 10 veteran guides of a wealth of experience leading descriptions of nature, mountain-climbs, and etc.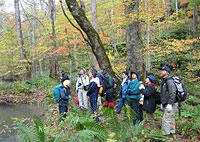 Towada・Oirase・Hakkoda Eco- Tour Club Office
Park Service Nature Park Foundation Towada Branch
Tel 0176-75-2368 Fax 0176-75-2672
486 Towada Aza Okuse Oaza Towada-City Aomori
| | | |
| --- | --- | --- |
| ●Tour area | / | Towada-Lake, Oirase Stream, Mt.Hakkoda |
| ●Tour period | / | Daily |
| ●Cost | / | Fee (prices posted on the Website) |
| ●Application | / | please apply via Fax with application form posted on the Website. |
| ●URL | / | check on the Website |